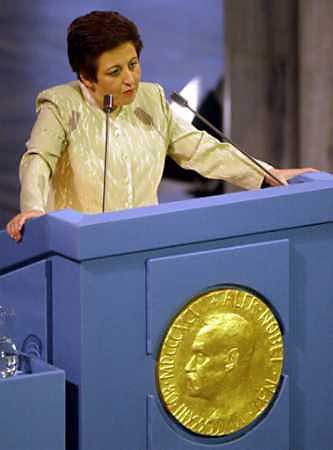 " When a 16 year old child commits a crime, they issue the death sentence. They keep the child until s/he is over 18 and then proceed with the execution. In reality this is a multiple torture. Assume being someone who everyday has to turn the pages of the calendar to see when you are 18 years old to be killed. This multiple torture that is committed by Government of Iran in reality is an extreme and repeated violation of human rights"
Shirin Ebadi – March 2007 interview with Radio Deutsche Welle
Last week Nazanin Afshin-Jam and the Iranian Nobel Prize Laureate 2003, Shirin Ebadi participated in a panel discussion on women and human rights in the Middle East at Rutgers University in New Jersey.

At this meeting, Ms. Ebadi recognized the work and dedication of Nazanin Afshin-Jam and the Stop Child Executions campaign and extended her support by signing the petition to put a permanent end to executions of minors in Iran.
Shirin Ebadi (شیرین عبادیi) s an Iranian lawyer, human rights activist and founder of Children's Rights Support Association in Iran. Ms. Ebadi also is also one of the initiaters of the One Million Signature Campaign in Iran which has a goal of equal rights for Iranian women. Nazanin Afshin-Jam and the SCE Campaign thank Ms. Ebadi for her support of the campaign to Stop Child Executions in Iran. 
| | | | |
| --- | --- | --- | --- |
| 5805. | Shirin Ebadi | Iran | Lawyer, Human rights activist |