ACTION CALL: July 25, stand in solidarity with the Iranian people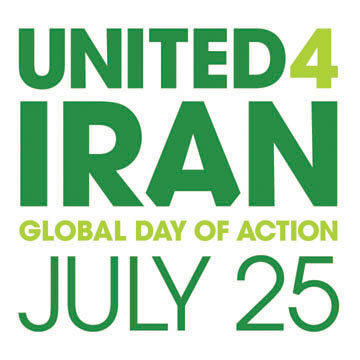 Stop Child Executions joins Amnesty International, Human Rights Watch, Shirin Ebadi and many others in a call to the SCE volunteers, supporters and the people of the world to attend the United 4 Iran worldwide rally
ACTION CALL: July 25, stand in solidarity with the Iranian people
Join this unprecedented wave of global citizen activism for the people of Iran. On July 25, participate in an event in one of more than 50 cities around the world. Join us for a rally in your city in support of the Iranian people and in condemnation of the human rights abuses being committed by the Iranian government. United4Iran is a non-partisan collaborative of individuals and human rights organizations. United4Iran does not promote any political agenda. Our only aim is to condemn the widespread and systematic violations of the Iranian people's human rights and to call for full restoration of their human and civil rights.
(July 18, 2009) PRESS RELEASE: Human rights activists are organizing a coordinated Global Day of Action on July 25, 2009 to demand respect for the human rights of the Iranian people and to demonstrate worldwide solidarity with the civil rights movement in Iran. Major human rights organizations have sponsored the event.
Around the world, people will gather in solidarity with the Iranian people following over a month of intensified state repression against citizens peacefully demonstrating for their rights. Many have been killed in the streets, many hundreds have been beaten and injured, and at least 2,000 are thought to have been detained.
The Global Day of Action is a not affiliated with any partisan political agenda, and is aimed at securing the internationally recognized rights of the Iranian people.
The organizers believe that while political questions facing Iran can only be resolved by the Iranian people themselves, the violent repression of their internationally guaranteed human rights are of concern to people all around the world.
The global day of action is organized around the following core demands:
1. That member states and civil society organizations of the international community give sustained attention to the Iranian people's human rights as a matter of international concern, and that the UN should immediately initiate an investigation into grave and systematic human rights violations in Iran, including the fate of prisoners and disappeared persons, unlawful killings, and torture and other ill-treatment;
2. An end to state-sponsored violence, accountability for crimes committed and no recourse to the death penalty;
3. The immediate and unconditional release of all prisoners of conscience, including politicians, journalists, students, and civil society activists; and
4. Freedom of assembly, freedom of association, and freedom of expression (including freedom of the press) as guaranteed by the Iranian constitution and Iran's obligations under international covenants that it has signed.
For more information visit: www.united4iran.com