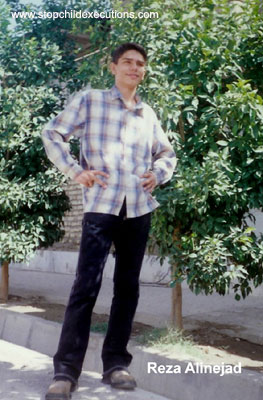 In a phone conversation with Nazanin Afshin-Jam, Reza Alijenad's brother Ali said that two days ago a fight broke out in the prison where Reza is being held. Although Reza had nothing to do with the fight but the prison officials took him along with other prisoners and beat them. This has really upset Reza's mother and family.
Ali also told Nazanin that they are a family of 9 (7 brothers and sisters). He explained that it was after nearly 5 years of imprisonment and after Reza's execution became more imminent that his mother found Nazanin's name and suggested Ali to ask for her help. He thanked Nazanin for introducing them to Reza's lawyer, Mr. Mostafaei and for bringing attention to Reza's pending execution order as Reza was unknown before. Ali added that they very much appreciate the efforts of all the people who have been helping bring awareness to Reza's case.
Stop Child Executions Campaign demands an official investigation and a public report by the Iranian officials of the beating by prison officials.  SCE campaign has also notified Amnesty international of this brutality. 
You can read more about Reza Alinejad here. To help save Reza from execution please sign the Stop Child Executions petition and visit HOW YOU CAN HELP.